The Night Watchman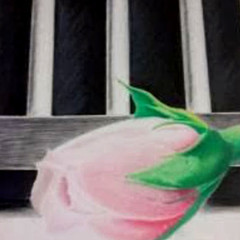 by
Donald 'C-Note' Hooker
Artist
Donald 'C-Note' Hooker
Medium
Painting - Acrylic On Canvas
Description
The Night Watchman (2023)
Acrylic on canvas
10 in. x 15 in.(25.4 x 38.1 cm)
Donald "C-Note" Hooker

"The Night Watchman" was a work specifically created for the Nov. 3 - 12, 2023, London Open Art Exhibition at The Holy Art London: The Factory, 21-31 Shacklewell Ln, London, E8 2DA.

As the world's most prolific prison artist, C-Note often conveys prison bars in his visual storytelling, and "The Night Watchman" is no different.

PRISONS and JAILS frequently count inmates to ensure security, maintain order, and manage the population effectively. These counts are crucial for several reasons:

1. SECURITY: Regular counts prevent escapes by ensuring that all inmates are accounted for. If someone is missing, authorities can act quickly to secure the facility and locate the escapee.

2. SAFETY and HEALTH: Counts also help staff ensure that inmates are safe and not in any medical distress. It's a way to make sure no one is hurt, sick, or in a situation that could threaten their well-being.

3. RESOURCE MANAGEMENT: By knowing the exact number of inmates, the facility can manage resources like food, bedding, and other necessities efficiently.

4. REGULATORY COMPLIANCE: Prisons and jails must comply with national and international laws and regulations, which might require regular counting to meet legal standards.

As for a global graph or standard on how many times inmates are counted, this varies significantly by country and the specific policies of each institution. There isn't a universal standard, as each facility's routine is influenced by its size, security level, and operational policies. However, it's common for counts to occur multiple times a day, often during shifts changes, after movements of inmates, or during emergency situations.

For specific statistics or comparative graphs, one would need to refer to studies or reports by criminal justice research organizations or governmental bodies, as these details are not typically compiled into a single global report accessible to the public.


Uploaded
October 31st, 2023
Statistics
Viewed 86 Times - Last Visitor from White Plains, NY on 12/07/2023 at 3:10 AM