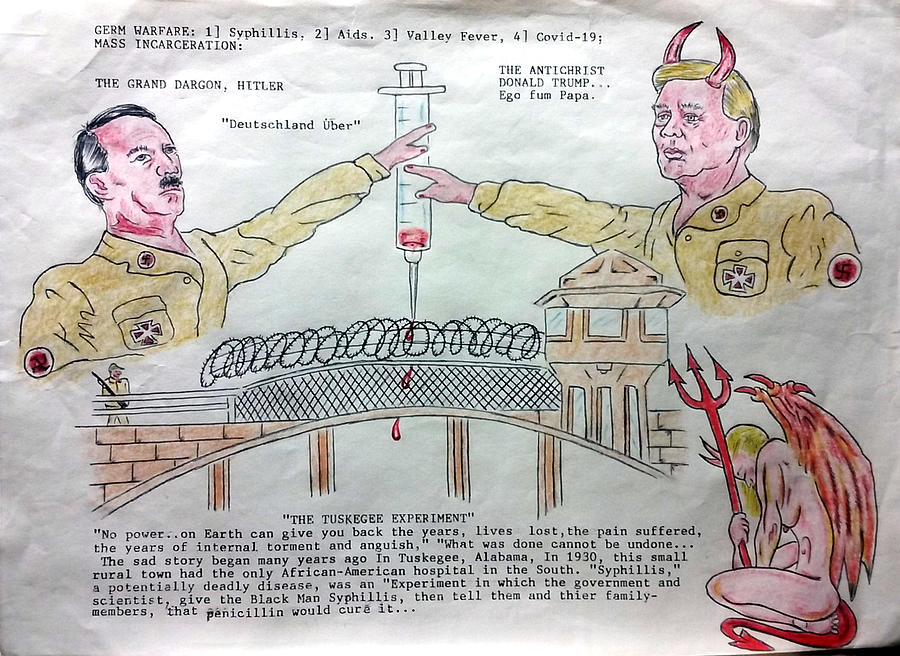 Germ Warfare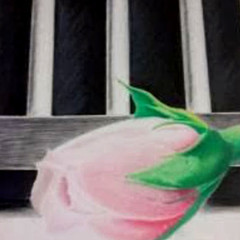 by
Joedee
Medium
Drawing - Works On Paper
Description
Germ Warfare by the Revolutionary Prisoner Artist Joedee speaks to a certain segment of the population. These beliefs are not wild, rather it be from a historical context, like the 1763 Fort Pitt use of smallpox on the Indians, the 1932 - 1972 use of syphilis on African Americans, or in popular culture, like the 1978 movie Thriller The Boys from Brazil, about 95 boys genetically cloned from Adolf Hitler to the 2000 Fox television series Dark Angel starring Jessica Alba of Genetically Enhanced superhuman children trained to be super soldiers by the military, the sentiment expressed in this work by Joedee is not far-fetched.

The following is the text in his work:

GERM WARFARE: 1] Syphilis; 2] AIDS; 3] Valley Fever; 4] COVID-19

MASS INCARCERATION


"THE TUSKEGEE EXPERIMENT"


"No power... On Earth can give you back the years, lives lost, the pain suffered, the years of internal torment and anguish," "What was done cannot be undone...

The sad story began many years ago in Tuskegee, Alabama, in 1930, this small rural Town had the only African-American Hospital in the South. "Syphilis" a potentially deadly disease, was an "Experiment" in which the government and scientist, give the Black Man Syphilis, then tell them and their family members, that penicillin would cure it...
Uploaded
October 22nd, 2021
Statistics
Viewed 629 Times - Last Visitor from Shenzhen, 30 - China on 03/29/2023 at 11:21 PM